Provider News and Updates
In the rapidly transforming world of health care, we understand how important it is for you to stay up to date on changes that affect you, your practice, and your patients. Below are notices, recommendations, and updates that can help you keep track of changing standards and regulations. Check back regularly for new postings.
Newsletters and Bulletins
See the most recent Provider News updates.
Not on our mailing list? Sign up at the bottom of the page to have Provider News updates delivered right to your inbox.
New Member ID Cards for 2023
Effective January 1, 2023, members of the health plans from VNS Health have new member ID cards, reflecting the new names of their plans.
Medicare Plans
We have three Medicare plans: VNS Health Total (HMO D-SNP), VNS Health EasyCare (HMO), and VNS Health EasyCare Plus (HMO D-SNP). Our three Medicare plan cards look like this. You can find the plan name on the "Plan" line.
VNS Health MLTC
You may not see ID cards from our Managed Long Term Care plan, VNS Health MLTC, as they aren't required to be shown for services. But in case you do, they'll look like the card on the right after January 1.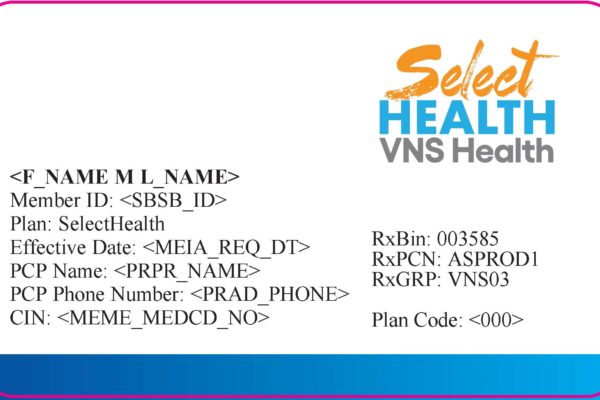 SelectHealth
We changed the name of our Medicaid special needs plan to SelectHealth from VNS Health and mailed out new ID cards last summer. SelectHealth member ID cards have a distinct look.
Guideline and Policy Updates
For All Health Plan Providers
This is a reminder that effective February 22, 2021, Availity is the preferred Electronic Data Interchange and portal vendor for VNSNY CHOICE Health Plans transactions.  
You can also expedite your payments with electronic funds transfer. To receive electronic remittance advice files, enroll with Availity directly. 
Please download this Provider News Update for more details.
Resumption of Prior Authorization Activities 7/7/2020:
Given the importance of medical review activities to CMS' program integrity efforts, CMS will discontinue exercising enforcement discretion for the Prior Authorization Process for Certain Durable Medical Equipment, Prosthetics, Orthotics, and Supplies (DMEPOS) items beginning on August 3, 2020, regardless of the status of the public health emergency. For power mobility devices and pressure reducing support surfaces that require prior authorization as a condition of payment, claims with an initial date of service on or after August 3, 2020, must be associated with an affirmative prior authorization decision to be eligible for payment.
Additionally, prior authorization will be required for certain lower limb prosthetics (L5856, L5857, L5858, L5973, L5980, and L5987) with dates of service on or after December 1, 2020.
Please see more information here (PDF). The Required Prior Authorization list can be found here (PDF).
For VNS Health Medicare Providers
For SelectHealth from VNS Health Providers